全球风险管理专业人士协会(GARP)致力于为风险管理条线上的各级人员,包括各大金融机构的风险从业者和监管机构人员提供风险教育和最新行业资讯。GARP China微信公众号将持续转载"GARP Risk Intelligence"系列文章,介绍科技、企业文化与治理、能源等领域对操作风险、信用风险、市场风险和资产负债管理的影响。让我们一起全面认识风险,防范风险,化解风险。
麦肯锡全球研究所(McKinsey Global Institute)的一项调查显示,人工智能正在"迅速掌控全球业务",风险管理是商业机构从中获得的最大收益之一。
由麦肯锡全球研究所合伙人Michael Chui和麦肯锡校友SankalpMalhotra撰写的《人工智能进步但基础挑战依旧(AI Advances But Foundational Challenges Remain)》一文于11月出版,这篇文章总结说"人工智能的机会存在于各个商业职能部门"。
总体而言,2018年调查显示47%的受访者已开始在其业务流程中采用至少一种AI技术,比2017年的20%增加一倍多。
在整体应用方面,前三大人工智能的领域是电信、高科技和金融服务。
When asked about value captured in business functions where they have deployed AI, 41% of all respondents reported significant value, 37% moderate value, and only 1% no or negative value. Majorities said they obtained significant value in two areas: manufacturing (57%) and risk (51%). Those scores (see graph) were followed by supply-chain management (47%) and product and/or service development (45%).
In financial services, the types of AI technology most frequently employed are machine learning, virtual agents or conversational interfaces, and robotic process automation. Forty percent of the financial industry respondents who reported that they had piloted or embedded at least one AI capability in a function or business unit said they are using it for risk-related purposes. The comparable figure in telecom is 27%, in health care systems and services 19%, and in high tech 17%.
Besides risk, the most active areas of AI application in financial services are service operations (49%), marketing and sales (33%), and product and/or service development (26%).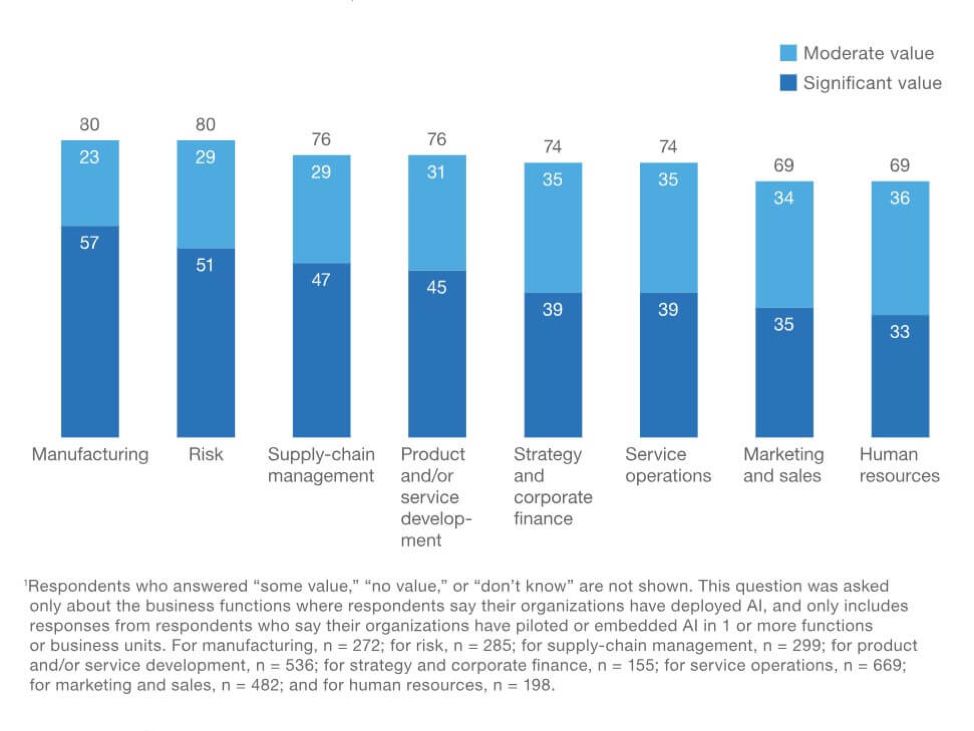 Source: McKinsey & Co.
Regardingthe relatively high rate of take-up in risk management, AI is seen as a goodfit for credit-loss, fraud and money-laundering prevention.
DerekWaldron, a partner in McKinsey's risk and financial services practice, saysthat AI and machine learning "can provide significant value along the creditvalue chain," as in credit risk measurement, pricing and underwriting, anddeciding on maximum exposure to a given customer.
Waldronadds that banks are also using the technology in collections, to improve theprocess of identifying the most effective customer interventions that willultimately minimize charge-offs.
KevinBuehler, McKinsey senior partner and leader of risk advanced analytics, saysthat AI can enhance banks' technological sophistication, allowing them "tosuccessfully compete with other financial institutions and fintech start-ups"and helping to fend off "adversaries that are becoming more and moresophisticated in the technology they employ."
McKinsey'swhite paper identifies certain foundational practices that are required for thefull value of AI to be realized. These include advances in the digitization ofbusiness, along with related staff training and the acquisition of relevantmodel-building expertise; scaling AI across the enterprise; and enablers suchas top-management sponsorship, development of an enterprise-wide portfolio viewof AI, and creation and implementation of a sophisticated data strategy.
"It'sdifficult to make progress on AI adoption unless you are making progress onyour digital journey," says survey author Chui. Indeed, if a firm fails to addressthis challenge, he says, they face the risk of missing out on AI's fullbenefits.
Thesurvey was conducted last February, with responses from 2,135 participantsrepresenting a full range of regions, industries, company sizes, functionalspecialties and tenures. To adjust for differences in response rates, thesurvey data were weighted by the contribution of each respondent's nation toglobal GDP.
---
Katherine Heires是一名商业记者和自由撰稿人,也是MediaKat有限责任公司的创始人。
点击原文,阅读更多GARP风险资讯